Entertainment at Michigan Fiber Festival
Michigan Fiber Festival strives to have activities and events for everyone! In addition to our fiber related demonstrations attendees can enjoy live music,  antique tractors, and the historic village on the fairgrounds.  We offer unique entertainment for the whole family!   
And lets not forget the eats.
Music in the 
Carousel Pavilion
Terrestrial Peasants
Saturday Noon to 3:00 pm 2021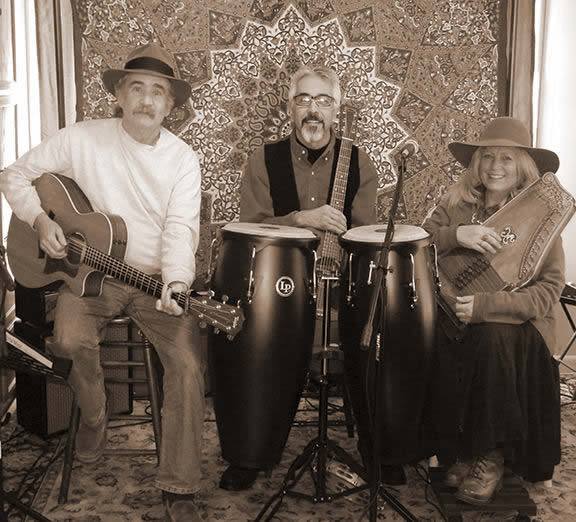 Terrestrial Peasants is an acoustic trio from SW Michigan featuring Jimmy Phillips (guitar, harmonica, vocals), Dan Diaz (guitar, percussion, vocals), and Debbie Phillips (autoharp, ukulele, vocals). Sets include songs by Bob Dylan, Neil Young, The Byrds, The Beatles, and the Grateful Dead.  The Peasants will remind you what 60's was all about!
Whiskey Before Breakfast 

 

Sunday Noon to 3:00 pm 2021

Whiskey Before Breakfast performs Irish traditional dance music; jigs, reels, hornpipes and all manner of toe-tapping tunes and songs. With a variable cast of musicians and instruments, WBB performs Irish Traditional Dance Music and Songs; with Cara Lieurance, Jim Clawson, Gautier Debeyser, Dave Marlatt, Aaron Miller, Jeff Sarnacki, and Klay Woodworth. Whiskey Before Breakfast has been performing throughout southwest Michigan since 1994.
 Some of our special appearances over the years include concerts at the Cooper's Glen Music Festival, the Kalamazoo Irish Festival, The Kalamazoo Scottish Festival, The Box Factory St. Joseph Area Arts Center, LVD's Concert Hall, Kalamazoo Arts Council Concerts in the Park Series, The Celery Flats Shakespeare Festival, Kindleberger Park Concert Series, Kalamazoo New Years Fest. The band can be heard regularly, chiefly at O'Duffy's Pub in Kalamazoo.
Kind of New for 2022: Music while you shop -- Year 2 of Buskers at MFF!
In an effort to make Festival a bit more festive- we will have buskers to preform Friday through Sunday in our vending areas.  Buskers are "street musicians" who perform in the hope of donations being placed in their case or can in appreciation of their efforts.  We hope you will enjoy the entertainment as you shop!  
If you or your music group would like to busk at MFF 2022, please contact staff@michiganfiberfestival.info!
Old Tractors R Us Tractor Club Display


This year will be the 9th year that Old Tractors R-Us Tractor Club (a local tractor group) will be at Festival with a variety of tractors and activities on display for all to enjoy on Saturday and Sunday.  They are looking forward to meeting and greeting the many people that will attend Festival this year.

Please stop by to ask questions and to see the corn shelling and grinding demonstrations. If you have questions or would like to bring a tractor in for display, please contact Fred Banks (269-673-3080) or Denny Hammer (269-673-8295).
Historical Village on the Fairgrounds



Don't forget about the Historical Village on the fairgrounds. They will be open for your enjoyment Saturday and Sunday. Check out the buildings, talk to the volunteers about the site or enjoy your lunch in the common area.
Sheep Shearing Demonstration
The sheep shearing demonstration is located between the sheep and pygora goat areas.
Saturday:  10:00 am, Noon & 2:00 pm
Sunday:  10:30 am, 11:45 pm & 1:30 pm

Herding Dog Demonstration
The herding demonstration is located just outside of the Expo Center.
Saturday:  11:00 am & 3:00 pm
Sunday:  11:00 am
Fiber Arts Demonstrations
A variety of fiber artists demonstrate their skills on Saturday and Sunday from 10:00 am to 3:00 pm.  Visit them in the Expo Center.